Director's Message
Dear Students,
Welcome to UC San Diego and Student Financial Solutions (SFS)! SFS offers a broad range of services and programs encompassing student account management, university billing services, loan administration, campus cards services, and central cashiering to students, faculty, staff, and community members. As a team of knowledgeable employees working in a fun and healthy environment, we strive to deliver a unified student-centered financial solution through partnership, communication, and innovation while creating a positive client experience.
Here, people are first, and everything we do comes from our motivation for the best possible outcome for the people we serve. Our never-stop-learning mindset allows SFS to address challenges faced and identify breakthroughs for our clients. Our goal is to build pathways to the future and construct meaningful work through collaboration, connections, and harmony. This conglomeration of the sum of our whole allows us to create a central hub of support, knowledge, and service for the financial needs of our clients.
As an Alum of UC San Diego, I understand managing your own personal finances and course work can be stressful.  Our goal is to create a seamless financial experience for you and provide premier customer service while you focus on your studies.  In addition to serving you, we also employ students to support our programs.  Our student employees gain tangible skills in customer service, communication, business management, and leadership.  This is our way of giving back to the student community.
We hope your academic journey at UC San Diego is a successful one and we wish you the best!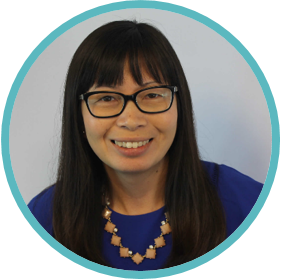 Gayle Ta
Director: Student Financial Solutions