ENROLL IN DIRECT DEPOSIT
Watch our tutorial or read below to learn about what it is and how to set it up.
---
WHAT IS DIRECT DEPOSIT?
Direct deposit is a method of payment that electronically transfers funds to your checking or savings account.
UC San Diego strongly encourages you to set up a direct bank deposit account via Tritonlink. It is the fastest, most secure, and environmentally friendly way to receive student account refunds.
Direct deposit also ensures you receive various types of credit refunds, including:
Financial Aid overpayments
Cash or check overpayments
Housing overpayments
IMPORTANT!
Direct deposit is for refunds only. The University will not use your direct deposit information to auto-debit from your account.
Direct deposit information will not transfer to or from the online payment portal.
---
HOW DO I SET UP DIRECT DEPOSIT?
Use the Direct Deposit tool via Tritonlink. You must specify one U.S. personal checking or savings account as your direct bank deposit account (please ensure that you use an individual bank account and not a joint bank account - i.e. your account, not a parent's). Please note that you should be using your bank account and routing number, not the numbers on your physical debit card. 
When enrolling in direct deposit, you may use a paper check or deposit slip to obtain the routing and checking account number (see illustration). This information may also be available on your bank billing statements or by contacting your banking institution. 
SAMPLE CHECK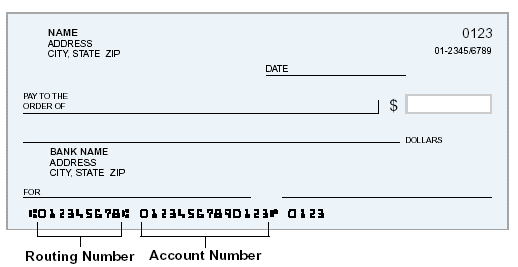 COMMON BANK INSTITUTION ACCOUNT INFORMATION
---
TROUBLESHOOTING
Direct deposit enrollment will be unsuccessful if:
A debit card number is used as the account number.
An "electronic" routing number is entered.
You designate a joint account as your direct deposit account.
You designate a money market account (must be a savings or checking account).
The checking or savings account is closed.
If you recently closed the bank account used for your direct deposit, you must:
If a refund disburses to your closed direct deposit account, Student Financial Solutions will re-issue the funds as a paper check and mail it to the current mailing address on file. This process may take up to 10-15 business days. If you elect to re-enroll in direct deposit, our office can hold the funds per customer request and reissue the refund once the account information is verified.
Questions?
Find answers, request services, or get help from our team by going to the UC San Diego Services & Support portal. Click the button below if you have additional questions.